Judge's New Album!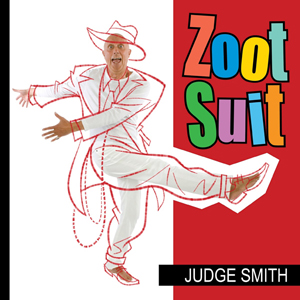 With 'ZOOT SUIT', the new CD from this maverick composer and performer, Judge continues trying not to repeat himself. 'ZOOT SUIT' is Judge's 11th solo release, but only his third full-length collection of songs in twenty years, and it comes with a completely different sound-world and atmosphere from either of his previous 'song albums'. It features the spectacular arrangements and production of David Minnick, and some amazing American musicians.
Referencing Ska, Hard Rock, '60s R&B, and more, 'ZOOT SUIT' is perhaps Judge's most accessible and downright entertaining album to date.
'ZOOT SUIT' is only available from Masters Of Art at www.judge-smith.com, and is not, at this point, available as a download. So get the real thing - a typically well-designed and packaged Masters Of Art CD with a lavishly illustrated 24 page booklet in a high-quality Super Jewel Box.
At only £11.99 , with postage free in the UK, we dispatch quickly and reliably, with a human being to handle any problems, and now you can pay by PayPal.
Hear before you buy. Visit www.judge-smith.com/ZootSuit, and follow the link to hear audio samples from each track of the album.
Yes, it's 'ZOOT SUIT' , with the drape-shape and the reet pleats.... Vout-oroony!
---
Please note that our mailing list will never be passed on to a third party, under any circumstances.
This message is never sent unsolicited. To unsubscribe from the list point your Web Browser at
www.judge-smith.com/newsletter
and enter the following details:
Name: [NAME]
Email: [EMAIL]